Italian cuisine is one of the most popular cuisines all over the world. However, the food that customers eat at most restaurants is a pale reflection of real Italian food. The best place to find the true taste of Italian cuisine is in the old villages in the countryside, with Nonas (grandmothers) cooking traditional recipes. This is what
Capecod Gaming
focuses on in its latest offering titled
Little Italy
. This slot takes players to a scenic village to experience the various dishes that can be offered by the best Italian cooks. Besides the visuals, the game has a nice little Mediterranean soundtrack to get players into the mood.
Little Italy Graphics and Design
One of the most noticeable aspects of Little Italy is its graphics and sound effects. The game has a warm and welcoming feel to it, and the symbols are designed to look like they are from a traditional Italian cuisine. The sound effects are also well designed, with sounds of dishes clattering, glasses clinking, and Italian music playing in the background.
Little Italy Gameplay
Players are presented with the traditional five reels and three-row layout. The game then places 15 paylines for players to win on. This is a pretty decent spread. Combined with the average RTP of 95.83 percent, players will have a decent chance at winning.
The minimum bet starts at $1.00 and then goes all the way up to $150. That gives players a wide variety of bets. Mid stakes players can be conservative and bet a dollar at a time. But high rollers can bet big thanks to the high betting limit.
The game does have an impressive set of special features to work with. First, there are three special symbols. There is the lemon cart that acts as the Wild symbol. It can replace any regular symbol in a combination.
Next, there is a Cactus symbol that acts as a 2x multiplier. This only activates when it lands on the rightmost reel.
Finally, there is a bonus free spin symbol that is two glasses of wine. Players can trigger free spins by scoring three of the wine symbol. Players get unlimited free spins and a stack of 20 Wild symbols. Sometimes the Wilds are used and when they run out the free spins end.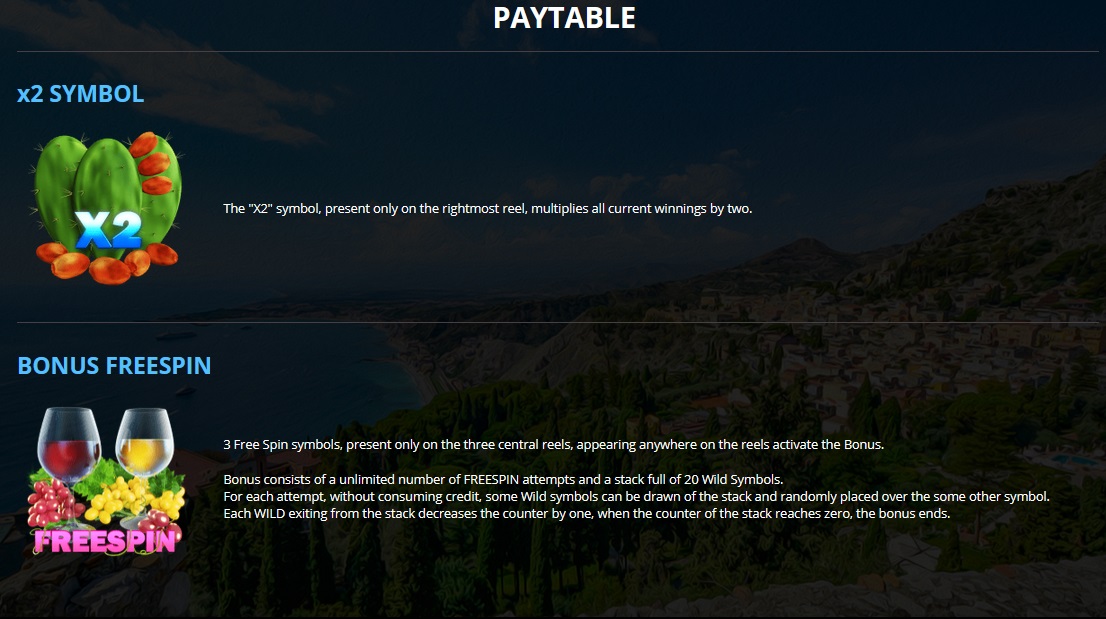 Little Italy Payouts
Little Italy has an RTP (return to player) of 95.83%. The symbols in this game are a mix. The low-value symbols are the card royals. Players will not want to score them so much because they don't pay out that well. What they will want to score are the various iconic Italian food symbols. This includes olive oil, oranges, pasta, and pie. The most valuable one is the Nonna symbol in all its grandmotherly glory. Players can potentially get 4000x their bet by scoring five of her on a payline.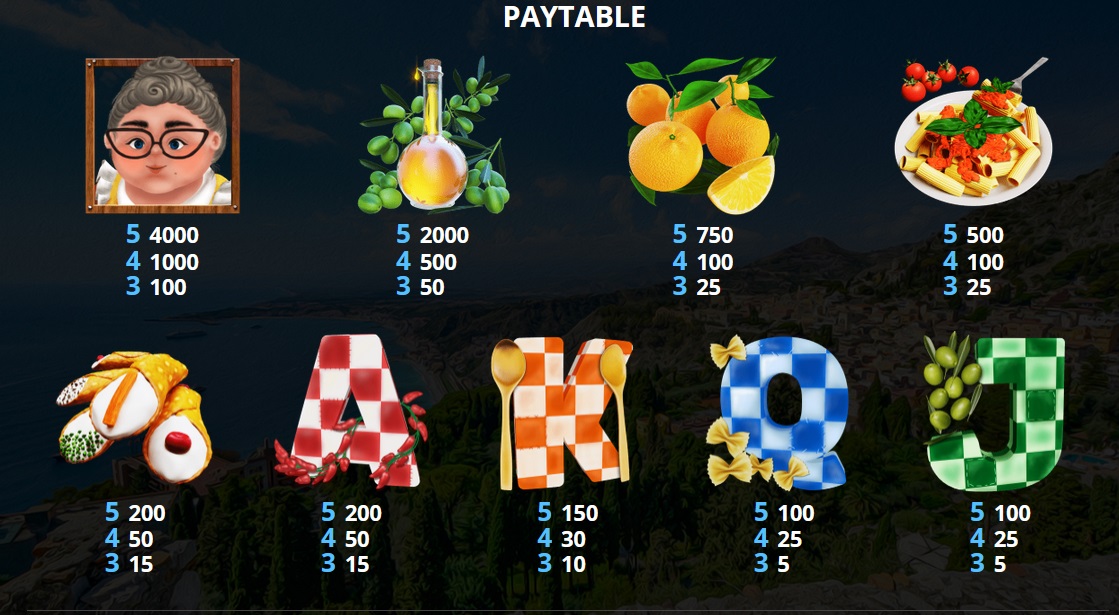 Simialar slots games to Little Italy
More casino games from Capecod Gaming
Our Verdict on Little Italy
Little Italy is a great online slot game that offers an enjoyable gaming experience. The game's warm and welcoming feel, well-designed symbols, and bonus features make it a great choice for players who enjoy Italian cuisine-themed slot games. The game's above-average RTP also makes it a great choice for players who want to get more frequent payouts. Despite its limited paylines and maximum bet, Little Italy is still worth trying out for players who want to have some fun and potentially win big.